On one side, we see the MATTS J+ as real off-road bikes, where our youngest cyclists can have real fun in the woods and on trails. On the other hand, due to the fact, that a carrier, fenders and a kickstand can be mounted, it's also a stylish bike for everyday use. In the end, it's just made for kids to have fun with and not only riding a standard kids bike that looks old fashioned and boring.
Optimised weight
Weight is an important issue when it comes to modern kids bikes. There must be a good balance between the weight of the rider and the weight of the bike, which is even more important for small kids than for adults. To achieve a lower weight, we decreased the tube diameter and mostly used round shaped tubes. That way, some weight, but also cost compared to voluminous hydroforming tubes, could be saved. More effective in the weight reduction was the use of lightweight kids' specific components, like the MERIDA JR handlebar and saddle as well as the one-by drivetrain. Here, compared to a normal two or three-by drivetrain, a lot of weight could be saved. In addition to that, we reduced the number of spokes, use lightweight tyres and tubes to shave off the last few grams.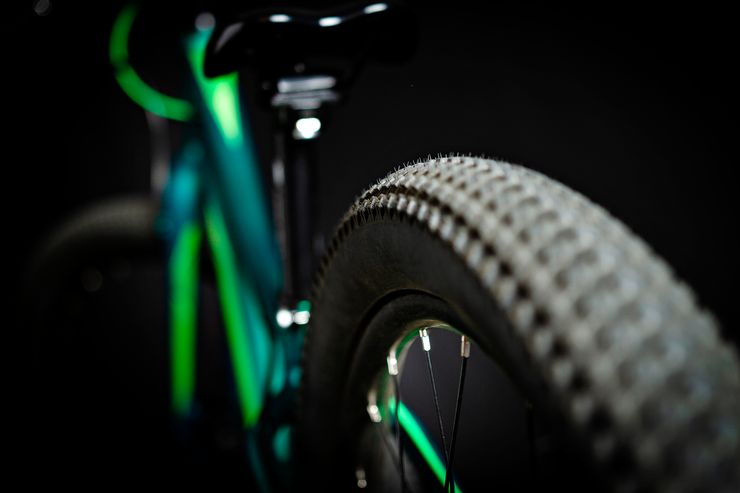 Plus size tyres
Besides the great and modern look, the 2.4″ tyres provide impressive comfort, while at the same time offering better puncture protection than smaller tyres. Small bumps are easily absorbed which increases the feeling of safety. And with the good tyre carcass structure, it offers good rolling resistance while being lightweight and durable. Plus size tyres at this price level, replace the heavy, expensive and mostly not well-working suspension parts. 
Kids' specific components  
The specific demands on childrens' components make them differ a lot from adult components. Not only that kids are smaller, but also do not have the same strength in their hands for example when it comes to braking. That's why we have chosen certain components to ensure that our youngest cyclists are able to use their bikes in a good, comfortable way and make them easy to handle in any situation.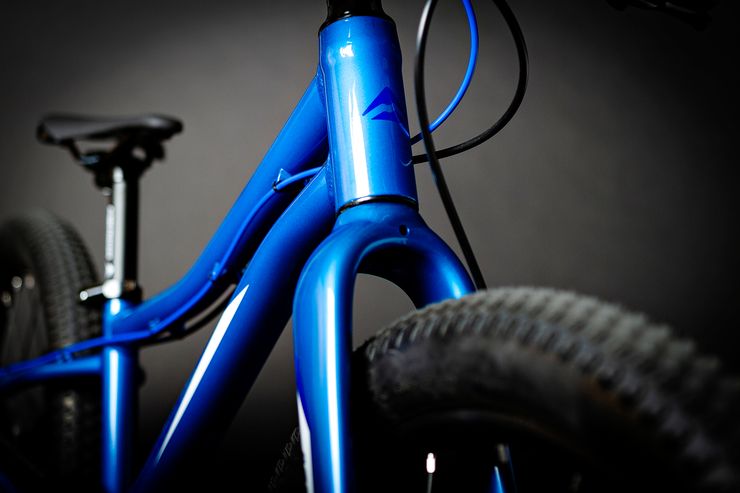 Rigid fork
In this bike category, well working and lightweight suspension forks are very expensive, while entry-level suspension forks are extremely heavy and offer poor performance. That's why we have decided to use a rigid fork in combination with 2.4″ tyres to provide the needed comfort. Furthermore, this guarantees longevity and reduces the need for maintenance.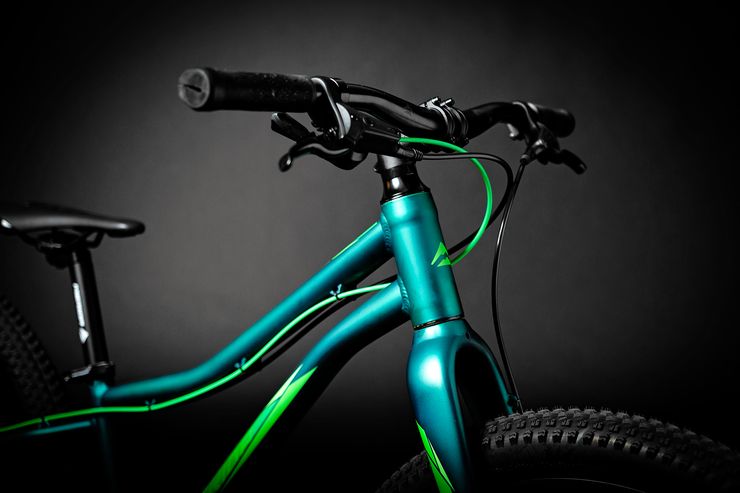 MERIDA MATTS JR handlebar
The MERIDA MATTS JR handlebars were designed with the specific demands of children in mind. These handlebars are lightweight and optimised in shape and width to ensure optimal handling and comfortable riding in any riding condition.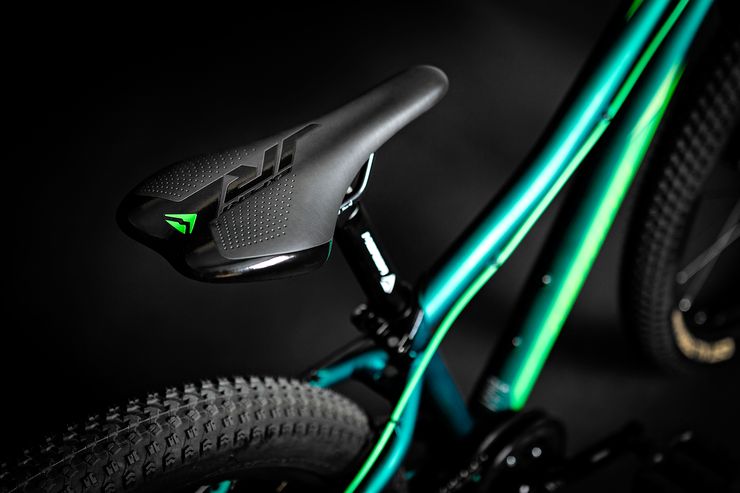 MERIDA MATTS JR Saddle
MERIDA MATTS JR COMP and EXPERT saddles are lightweight and customised to meet the demands of our youngest cyclists. Most children saddles are just adult saddles shrunk down in size. But it's not only the size that matters but also the padding and foam density. Children are much lighter than adults, so the foam has to be different in density to provide the needed comfort. Besides that, the weight of the saddle plays an important role in the overall weight of the bicycle.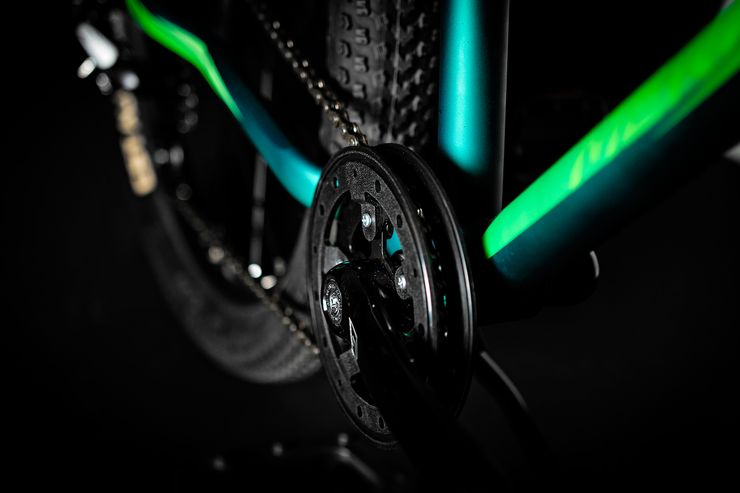 MERIDA MATTS JR crank
All MERIDA kids bikes come with a one-by drivetrain, making the whole shifting process much easier to understand and to handle. The chain wheel is covered from both sides by plastic chain wheel guards. These guards do not only protect the riders from getting hurt or dirty but also have the function of preventing the chain from dropping off the chain wheel while riding off-road. These plastic guards have the advantage, that they are lightweight and cost-effective in comparison to alloy guards, which also might get sharp and dangerous edges after hitting obstacles. For that reason, they are also much safer.
Tektro disc brakes
Besides the smaller size of the hands, the power kids have in their hands for braking is much less than for adults. That's why we use Tektro kids specific hydraulic disc brakes at our kids bikes. These disc brakes have kids' specific brake levers, made for smaller hands and the reach of the lever is adjustable. Another benefit of hydraulic disc brakes is, that there is almost no friction compared to mechanical disc brakes and the lever ratio guarantees, that the brake power can be well modulated. The disc brake rotors come with rounded edges to prevent any injuries.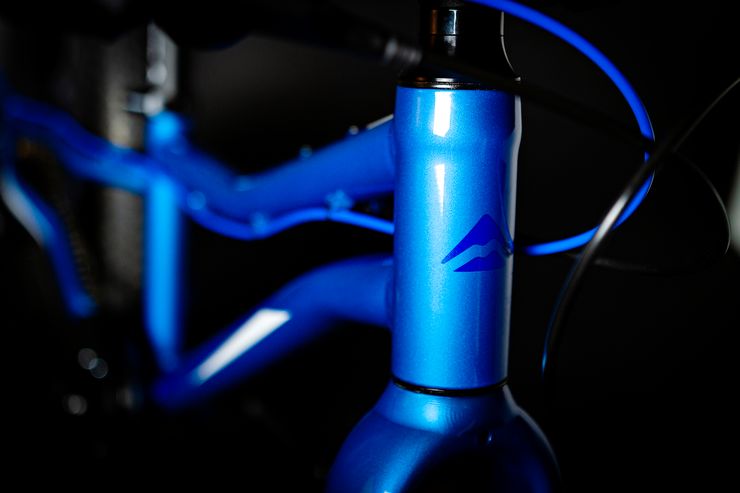 6061 aluminium
All kids' bike frames are made with the same 6061 lightweight aluminium we use in our adult bikes, we don't cut any corners. They're also painted and lacquered in the same way, so the bikes can still look great even after a few tough knocks.
MODERN DESIGN AND GEOMETRY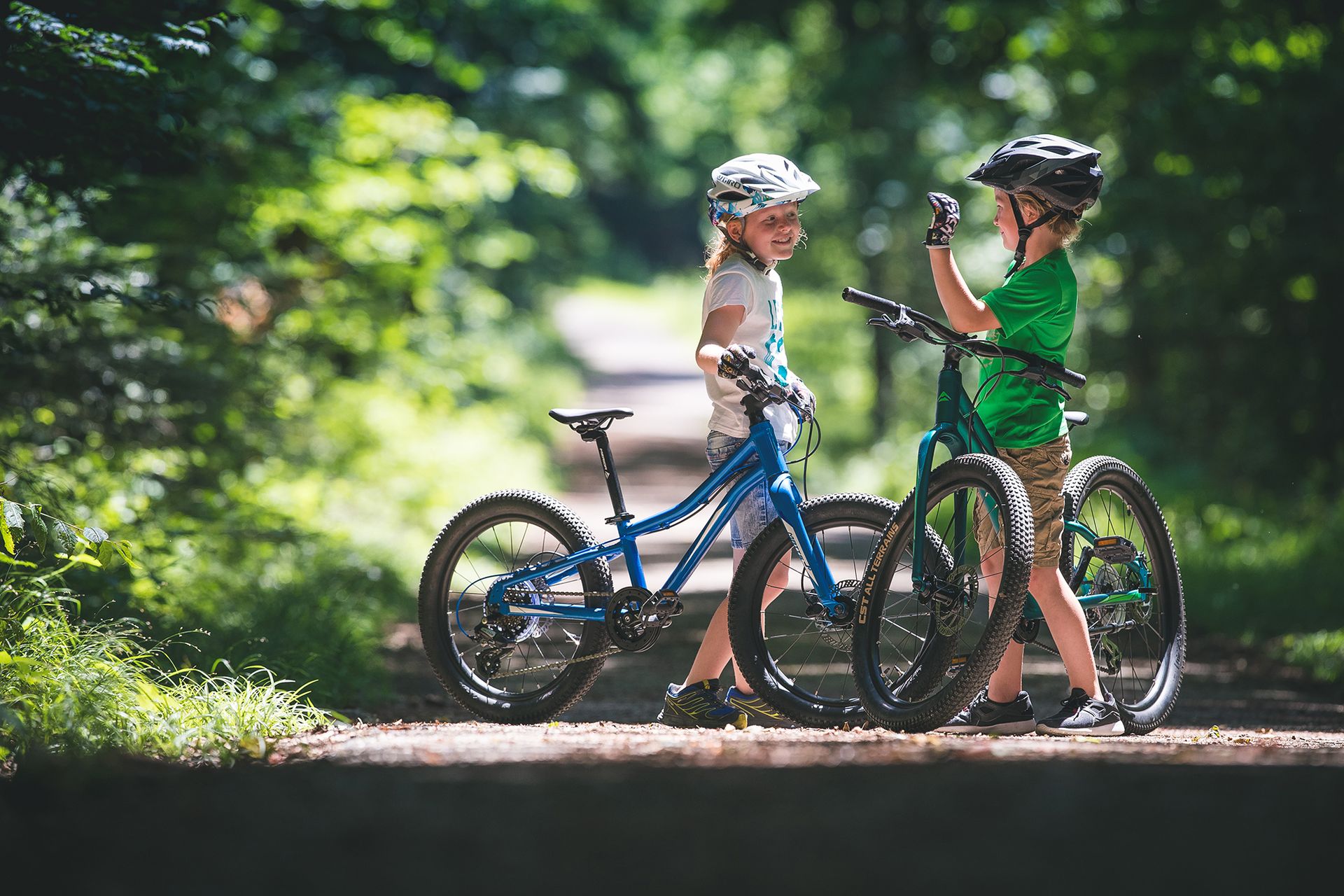 © 2019 MERIDA Bike Shop Seetal
All Rights Reserved.